Are you looking for answers and solutions?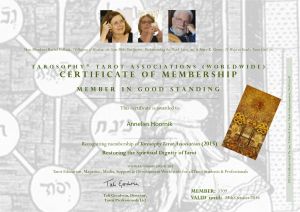 Hi, I am Annelies and Tarot has integrated into my daily life. It gives me energy to work with those lovely cards to gain insights and find the advise and hidden treasures in the readings I give with them.
Reading with the Tarot cards is a way to find spiritual and practical solutions to the bigger and everyday questions in life. I have been reading Tarot and oracle cards since 2000. My readings tend to look at options and possibilities instead of doom and gloom.
The focus is on providing clear and practical insights to querents. I love reading for people who really want to change their lives and can handle candid information and advice.
Readings can be done either by email or through Skype/Facetime/Facebook video, payments can be done by Credit Card on our payment page
If you want to book a reading with me you can email me to make an appointment.

What customers say about a reading 
When you wonder what result to expect from a reading you may want to read on. It is normal that people tell you they are good in what they offer. But I think it is better to see what others think about the readings they had with me. Below you find the feedback I received since I started sessions in English. I have been reading professionaly in Dutch for 12 years. For privacy reasons I have abbreviated the names of my clients.
---
The best I have come across  
She is one of the best I have come across. Her readings are brief and to the point. She has given me both a practical reading and advice which I truly appreciate.
Thank you very much Annelies,
RBS
---

One of the best readings I have ever received   
Hello Annelies!
Wow, your reading has filled me with hope and excitement. I feel like I have an answer, a deep sense of 'yes, this IS right'. I love how you set up the reading and broke down my one question into three. It made it feel more concise, and true to what I am feeling. I feel like you are very in tune with your intuition and channeling abilities. In the first card/question, the description of a home that is complete, feels so true and accurate.
The way you described that the reversed three of wands, and that textiles is a career path internally felt spot on. If I really think about it, it does feel like just a passion, a way to gain energy. And as for women's wellness and what you read in the cards… I felt as if I was gripping to each word you typed. The movement of the wands, and that it is a symbol of action.. felt so great. I often pick these cards for myself in tarot, but the way you describe them gives them a whole new perspective.
I am so grateful for the time and energy you put into this reading, it has truly filled me with confidence to pursue this direction. I thank you. And I must say, that this is one the best readings I've received! Many blessings to you on your path as an intuitive. 
Again, thank you.
All the best,
ST
---
You have literally nailed my career   
Hello!
Thank you so much for this reading. I decided to be vague about my career on purpose to make the reading less biased, but you have literally nailed my career on the head. I want to go into filmmaking (screenwriting and directing specifically) and that definitely makes me "feel a strong urge to express your ideas to a broader public". I'm VERY pleased with how spot on that is.
I have a few years' experience of reading tarot myself, so I could definitely understand the cards as you interpreted them. The interpretation of the cards were definitely spot on in my opinion. As far as the reading goes, they do fit each choice rather well and made me consider parts of each choice that I honestly willfully ignored. So, the fact that they're coming up in the readings makes me realize I need to seriously consider those factors. Overall, the reading was very thorough and helped me think about these two choices in a different light.
Thank you,
EM
P.S. I love the way you constructed this spread.  
---
I would recommend you to everyone   
Annelies,
I am very thankful for the reading. Your description was very detailed and I was surprised how quick your reading was delivered. I appreciate the fact that you were communicating with me the entire time trying to find out more about my situation. I felt like i was in good hands with you. I would recommand you to everyone who is looking for a good tarot reading, keep doing what you are doing!
JJ
---
Thanks for the reading!! That makes sense    
Thanks for your insight! I should have been more clear from the beginning – my apologies for that. I appreciate your insight and your patience with clarification. Your insight validates my assumptions. I look forward to continuing to use Tarot to put me on the right journey.
Thank you,
SB
---
Insightful and encouraging   
Thank you Annelies
Your reading was both insightful and encouraging. It clealy demonstrated the struggles that I am currently encountering and
highlighted my impatience to move before I am emotionally ready.
Thank you again.
With best wishes and respect,
LJ
---
Wow thank you   
Wow thank you, not what I expected to read and has definitely given me food for thought! Now only
time will tell if I have found the one....... thank you, very detailed and insightful.
many thanks
VW


---
An insightful, useful and curious reading   
Hello,
This is a very interesting reading as the cards that have come up are the same as the ones that always come up for me. This has given me added guidance on where I am and how to move forward. An insightful, useful and curious reading which I feel addressed my questions quite well.
Thank you for taking the time and energy to provide me with guidance.
Warmest wishes
KRL
---
It definitely reflected on my current situation   
Annelies,
Thank you so much for your reading. It definitely reflected on my current situation. I read it to my boyfriend as well and he agreed on everything you said as it was what was happening and how I am treating him. Although you gave me a positive card, I'm still afraid to let myself go and just stop thinking of things that would probably not happen. But I'll keep this in mind and I will try to think and worry less of things in the future.
Thank you so much!
JM
---
I really liked how you explained the cards   
Hey Annelies,
I am so sorry for the late feedback I was on vacation so thats why. I really liked your reading and how you explained the different cards and their meaning. Thank you for that!
LK
---
Thank you Annelies   
Thanks for your kind heart and reading
All my love,
MK
---
My Tarot Consultant's Code of Ethics
All Readings are completely private and confidential. I will not share them with a third-party.

To avoid disappointment, a pre-arranged appointment is essential. I cannot accommodate clients who call unexpectedly, either in person or over the phone looking for an On-The-Spot Tarot consultancy.

A Tarot Consultancy Reading is a two-way Process. I will ask questions during a reading and expect the involvement of the Querant in their reading. This helps the cards to yield more information, thus enabling the reading to open up and expand.

Tarot Reading does not predict the future but is based on the probable outcome of events which is influenced by the current behavior and attitude of the Querant and those around them.

In Tarot no card is viewed as totally negative as each has something to teach us. All cards represent part of the Human experience of Life. The death card does not carry a meaning of physical death but one of liberation from a negative situation or the end of a particular cycle in our Life. It suggests change, transformation and transition. The release of the old to make room for the new. It is not a card to be feared.

Tarot cards are not dangerous, evil or bad luck, but are simply an expression of our subconscious wherein lies the answers or solutions to all our life issues. A Tarot Reading is similar to dream interpretation where our subconscious relays information to us through the imagery on the cards.

The Tarot cards carry Images that reflect aspects of life we are all familiar with. As a Tarot consultant I have trained and studied their imagery and associated meanings, and am therefore in a position to Interpret the cards that were selected.

A Tarot reading is not absolute or carved in stone. As a Tarot Reader, I will offer my opinion and advice, but will not interfere with the free will of the Querant. Any decisions made or actions taken by the Querant as a result of a Tarot reading are the sole responsibility of the Querant.

I do not give specific financial, legal, medical or any other advice. I read what the cards show me.

My Readings are constructive and not destructive. I give readings to empower the Querant.

I will be honest in what I see and will not give false hopes or empty promises in order to keep the querant happy.

I will be compassionate and sensitive to your feelings and will not judge or condemn.

I do not give Readings to persons under the age of 18 without the consent of their Parent or Guardian.

I will never refuse a client a Tarot Consultancy on the grounds of race, color, religious belief, disability or sexual orientation.

I do not predict the Lotto numbers.

I do not invoke or remove spells or curses.
---
Legal Disclaimer
Tarot Reading is for Entertainment Purposes Only
Tarot Reading is subject to interpretation and should not be taken as Absolute. A Tarot Reading is never 100% accurate. All Tarot Readings given by me are for entertainment purposes only, and no guarantee can be given as to the accuracy of a Reading. A Tarot Reading does not replace Professional Medical/Legal/Business Opinion and Advice. It will not Force you to follow a particular Course of Action, or attempt to exert any form of Control over your Free-Will and Common Sense.  The contents of a Tarot Reading are not legally binding.  Any Decisions made, or Actions taken by you as a result of your Tarot Reading are your sole Responsibility and have not been Forced Upon You, by me, your Tarot Reader. I assume no legal liability for any damages, losses, or other consequences of any client decisions, subsequent to, or based on, my Tarot readings.  Please use your own Common Sense and Judgment at all times. It is only with the Complete Understanding and Acceptance of the above that your Reading will take place. I do not offer Tarot Readings to anyone under 18 years of age.  By requesting a reading you confirm you are 18 years of age or over.