Titel: Thank you Angels
Auteur: Doreen Virtue
isbn: 9781401918460
Taal: Engels

Prijs: € 17.50
Klant beoordeling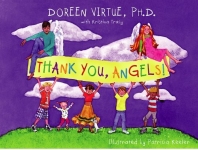 This is an introduction to angels for your children. Bestselling author and 'angel lady' Doreen Virtue has written her first book for children!
Thank You, Angels introduces young children to the world of angels and teaches them how these heavenly beings can help them in many ways. By following an angel throughout his busy day, children will learn all about the world of angels.
Kids will learn how o ask an angel for help, how to recognise and angel's voice, and what signs angels may use to let them know they're there. Thank You, Angels offers children a sense of comfort and peace by showing them that they're never alone.