Titel: I'd change my life if I had more time
Auteur: Doreen Virtue
isbn: 9781848509467
Taal: Engels

Prijs: € 19.99
Klant beoordeling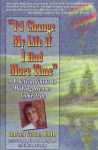 You deserve to have a rich life full of fun, relaxation, prosperity and love and it can start right now! Do you struggle to fit all you want into your day?
Are you tired of juggling multiple responsibilities, with not much to show for all your hard work? Bestselling author and therapist Doreen Virtue (a mother and career woman herself) gives you proven psychological and spiritual solutions to making time work in your favour!
Doreen's down-to-earth guide will help you avoid the mind traps that cause time struggles and anxiety during your day.
You'll discover how to access more free time, streamline your schedule and receive loving support from your friends and family. You'll also learn methods to boost your self-confidence, reduce your fear of failure, increase your intuitive powers and unleash your natural success consciousness.