Titel: Goddesses and Angels
Auteur: Doreen Virtue
isbn: 9781401910792
Taal: Engels

Prijs: € 27.50
Klant beoordeling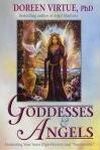 DIT BOEK IS NIET MEER LEVERBAAR, DUS NU ALLEEN NOG VERKRIJGBAAR ZOLANG DE VOORRAAD STREKT!
IIn this entrancing, true spiritual adventure story you can journey with Doreen Virtue into the powerful healing world of angels, goddesses and ascended masters.
This extraordinary spiritual quest takes Doreen from a Sedona sweat lodge ceremony to a goddess temple in Glastonbury's Isle of Avalon. As she opens herself to the wisdom of these places, Doreen receives important insights into Lemuria, Merpeople and the new rainbow children.
Read more about these enlightened beings who can unlock the magical gifts within you as you learn how to re-ignite your innate abilities to instantly manifest your needs.