Titel: Goddesses and Angels 4 CD
Auteur: Doreen Virtue
isbn: 9781401910709
Taal: Engels

Prijs: € 29.99
Klant beoordeling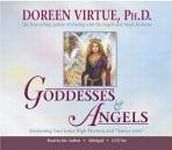 From the best selling author of Healing with the Angels and Angel Medicine comes a spiritual adventure and reference CD wrapped into one incredible voyage of discovery.
Doreen's quest in the creation of this new CD set is to discuss the often forgotten goddesses and angels that may help women to regain their inborn magical and spiritual gifts. Join Doreen as she reveals more about the mermaids, the Ark of the Covenant, the Kabbalah and unearths the trail to the ancient land of Lemuria to uncover secrets about the creator Goddess of the Mayans.
You'll travel with Doreen through a Sedona sweat lodge, the Polynesian island of Moorea, a goddess temple at the Isle of Avalon, and other exotic locations.